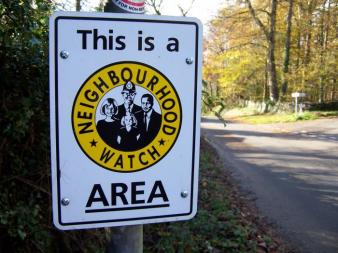 Let us know if you have missing or damaged street signs, and we will supply replacements.
Please contact: Nailsea Signs Administrator (N-SA) (Colin Oliver).
---
The North Somerset Council has confirmed that if a street lamp post with a NHW Street Sign is replaced by a contractor then they must replace the NHW sign as well. If anyone notices that this has not happened would they please use the Contact Us option via the website or directly to the Nailsea Signs Administrator.

---
NB. As from 1st January 2015, the Police are no longer erecting our street signs. It is now the responsibility of the Scheme Coordinator.

---
All NHW Street Signs should have permission to be erected from the relevant authorities: these include BT and North Somerset Council (Streetlighting), as well as advising the Council Planning Dept.
Note: We are now advised (10/2019) that no new or replacements signs will be permitted on concrete lamp posts within Nailsea. There is currently a replacement programme to change out all concrete lamp posts with metal ones within two years. When a concrete lamp post is replaced by the contractor they are required to replace the existing sign.
Note: Electricity Company (Western Power) will NOT give permission for any sign to be erected on their poles - any existing signs will not be replaced.
Existing signs did not have formal permissions and to address this we carried out a survey of all Nailsea NHW Street Signs to determine where they had been fitted. In March 2017 we passed the results to the Police NHW Administrator, and the N-Somerset Streetlighting Department to ratify.
---
Avon and Somerset Neighbourhood Watch Association (ASNWA) have produced a number of procedures/regulations for obtaining permission and erecting new NHW street signs. These procedures replace the previous procedures issued by the Police NHW Administrator and can be found on the ASNWA website.
For information the individual procedures/regulations following link to the ASNWA website:
Location Grid (Example)
New or Replacement NHW signs will continue to be supplied by the Nailsea NHW.
For the time being, the N-SA has developed a simplified process based upon the above, where Coordinators need only contact the N-SA with details of where the sign is to be fitted, the lamppost identifier reference and the nearby properties with sufficient information to enable a simple sketch to be produced. Where there are no lampposts a BT Pole can be selected but an Electricity Pole should not be used – permissions will not be given by the electricity company.

Currently, the process can be carried out by the N-SA on the coordinator's behalf (first obtaining their consent to pass their details to the relevant authorities - e.g N-Somerset Street Lighting Dept or BT Openreach) using emails and letter template attachments. The current process can be seen here.
This process is expected to continue until the end of June 2021 when it will be reviewed.
Contact the Nailsea Signs Administrator to determine if an existing sign has the relevant permission.
---
Signs should be attached to lampposts at a minimum height of 2.2 metres (7ft) (amended to align with ASNWA requirement) on a normal highway footpath, or a minimum height of 2.4 metres (7ft 11") on a Cycle Way.
---
Free Public Liability Insurance is provided by National Neighbourhood Watch for all Neighbourhood and Home Watch (NHW) volunteers to carry out their roles without fear of personal loss across England and Wales. The policy runs from April to March and is renewed annually. For further details see the National NHW website.