XX STOP PRESS XX
---
Here we go, another despicable scam: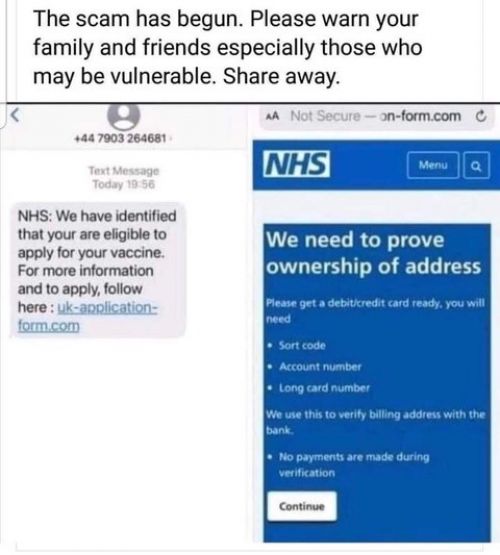 Remember, Covid-19 vaccines are free from the NHS and you will not be asked for financial details. Also do not click on links within emails that might be dangerous and download malware.
(added 08/01/2021)
---
Message about a DPD Scams:
"Due to a lack of complete address information, we have been unable to deliver your package 1900800752215642.
We require additional details to attempt re-delivery of this package, as the address provided appears to be incomplete. Please provide the complete information for this address to attempt redelivery.
Currently, your package is being stored in our local depot.
However, if action is not taken before 2021.01.06, it will be returned to the original sender.
Please select one of the following options: etc, etc"
We have just had this DPD Email Scam via our Nailsea NHW website Contact Us! So please be vigilant and do not click on links from emails unless you are certain they are genuine. (added 06/01/2021)
---
Calendar Updates:
Please have a look at the Calendar from the main menu for Public Meeting details (and cancellations) and any additional Policing events throughout the rest of 2020/2021.
---
Alerts from Action Fraud:
New: The latest Scam alerts from Action Fraud can now be seen on our website under Crime Prevention + - Scams page or via the drop down menu options.
---