XX STOP PRESS XX
---
Election of the Police And Crime Commissioner
Elections will be held on Thursday 6th May 2021. For information on candidates standing in your are please visit www.choosemypcc.org.uk or call 0808 1 96 21 70. Please use this opportunity to elect the candidate of your choice. Further information visit: "notice of election - police and crime commissioner (n-somerset.gov.uk)" and "notice of candidate address - police and crime commisioner (n-somerset.gov.uk)" (added 02/04/2021)
---
Dog Thefts
One of our members has sent in an email regarding a possible method of identifying properties with dogs that could be stolen at a later date:
"Just to inform people to look out for chalking on gates etc, Mine was heavily marked Friday night as I have dogs. This is the 2nd time, so clearly they are watching. "

If you own a dog or not please be alert to new markings on your gates or walls that might be put there by thieves to identify that dogs or other property could be stolen in the near future. (added 04/2021)
---
Catalytic Converter Thefts
As you will notice from the recent Police Alerts that Catalytic Converter thefts are again being carried out in our area. We have heard of at least three cases in the last week. A replacement converter can be expensive and although may be covered by insurance it could result in a higher premium and loss of NCB. There are Catalytic Converter locks available, which should deter a thief who would normally remove a converter in a couple of minutes and wouldn't waste time on anything that would take additional time and risk them being caught . Here is an example of a 'lock' from a local supplier at Longwell Green: Home | Catlocks.co.uk (other suppliers of locks will be available). (added 23/02/2021)
---
Here we go, another despicable scam: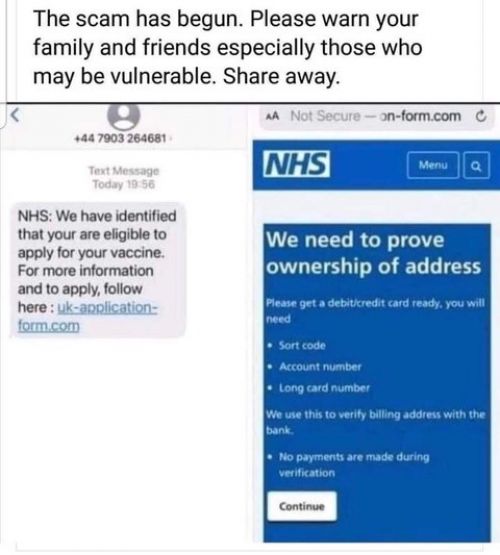 Remember, Covid-19 vaccines are free from the NHS and you will not be asked for financial details. Also do not click on links within emails that might be dangerous and download malware.
(added 08/01/2021)
---
Message about a DPD Scams:
"Due to a lack of complete address information, we have been unable to deliver your package 1900800752215642.
We require additional details to attempt re-delivery of this package, as the address provided appears to be incomplete. Please provide the complete information for this address to attempt redelivery.
Currently, your package is being stored in our local depot.
However, if action is not taken before 2021.01.06, it will be returned to the original sender.
Please select one of the following options: etc, etc"
We have just had this DPD Email Scam via our Nailsea NHW website Contact Us! So please be vigilant and do not click on links from emails unless you are certain they are genuine. (added 06/01/2021)
---
Calendar Updates:
Please have a look at the Calendar from the main menu for Public Meeting details (and cancellations) and any additional Policing events throughout the rest of 2020/2021.
---
Alerts from Action Fraud:
New: The latest Scam alerts from Action Fraud can now be seen on our website under Crime Prevention + - Scams page or via the drop down menu options.
---
Dog Thefts